Blam Component 100 MM Speaker Holder Full Upgrade Kit Mini Cooper One F55 F56 F57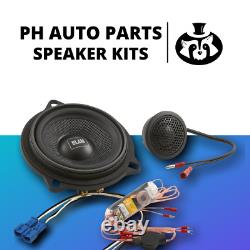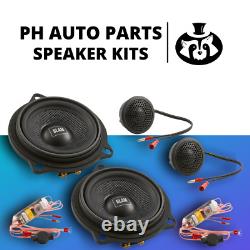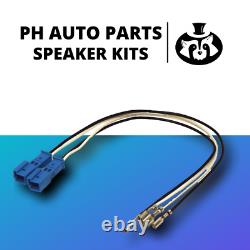 100mm full replacement door component speaker kit for mini building by the experts in sound: blam. This kit includes two 100mm (4) woofers, along with high quality tweeters and cross overs which replace the standard standard ones found in the doors of third generation f series minis and with harness adapts to make plugging them into the cars existing with extremely easy Wiring. All wired from the original wired harness through to both the new woofers and tweeters is included. This kit will do two doors, for example both front doors. This kit gives cleaner and more balanced sound, with real power when connected to the oem sound system and will further upgrade the quality when paired with a new head unit or an amplifier.
The rigid and light fiber glass membrane super powerful neodymium motor give these speakers an edge over the rest. Max power: 120 w / rms power: 60w frequency response: 40 hz - 500 hz. Sensitivity (2.83v/1m) 90 db. Compatible with the following minis. Mini f55, f56 and f57 in all trim levels with standard component speakers.
Including one, cooperation, cooperation, cooperation, john cooper works, cooper d, cooper sd and jcw. This kit can be made to models that do not have tweeters as standard, but holes will need to be made in the door cards for the new tweeters to mount into. This item is in the category "vehicle parts & accessories\in-car technology, gps & security\in-car entertainment\spokers". The seller is "phauto-parts" and is located in this country: gb. This item can be shipped to the following countries: United Kingdom, Antigua and Barbuda, Autriche, Belgic, Bulgaria, Croatia, Cyprus, Czech Republic, Danemark, Estonia, Finland, France, Germany, Greece, Hungary, Ireland, Italia, Latvia, Lithuania, Luxembourg, Malta, Netherlands, Poland, Portugal, Roumania, Slovakia, Slovenia, Spain, Sweden, Australia, United States, Bahrain, canada, Brazil, Japan, New Zealand, China, Hong Kong, Norvège, Indonesia, Malaysia, Mexico, Singapore, Singapore, South Korea, Guaby-Swiss, Taywan, Thailand, Bangladesh, Beliza, Bolivia, Barbados, Bruni Darussalam, islands cailand-Nimmans, Guaby-Smith, Guaby-Smith, Guaby-Smith, Guaby-Smith, Guaby-Smith, Guaby-Smith, Guaby-Smith, Guaby-Smith, Guaby-Smith, Guaby-Smi-Smi-Smi-Smi-Smi-Smi-Smi, Gua-Smi-Smi-Smi-Smi-Smi-Smi-Smi-Smi-Smi-Smi-Smi-Smi-Smi-Smi-Smi-Smi-Smi-Smi-Smi-Smi-Smi-Smi-Smi-Smi-Smi-Smi-Smi-Smi-Smi-Smi-Smi-Smi-Smi-Smi-Smi-Smi-Smi-Smi-Smi-Smi-Smi-Smi-Smi-Smi-Smi-Smi-Smi-Smi-Smi-Smi-Smi-Smi-Smi-Smi-Smi-Smi-Smi
size: 4 in
Number of driver: 2 Impedance: 4
type: component
manufacturer part number: bm100s
speaker design: 2 way
location on vehicle: left front door, left rear door, right front door, right rear door
driver: tweeter, woofer
brand: blam